Well over 30 pieces of Kenyan Art, from paintings on canvas and paper to banana peel on cloth to sculptures of ebony and rosewood, were up for Silent Auction on June 1st at the Christine Frechard Gallery in Pittsburgh.
The well-known Drum Group ABAFASI entertained and Award Winning Pittsburgh Visual Artist Zach Sierocki did a "Live Painting."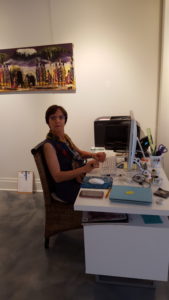 Gallery Owner Christine Frechard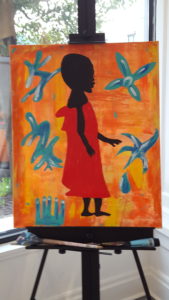 Zach's Finished Piece
Vin de Matrix Winery of Rockwood, PA. and Konception Kakes of Allentown, PA. kept our thirst and hunger at bay. Emma Wolff represented Vin de Matrix and Amber Clark Konception Kakes.
Even the kids were engaged by the stunning artwork!
This was Another Step in Creative Fundraising to keep Clean Water Kenya working to bring clean drinkable water to the Rift Valley and Northeastern Kenya. MORE TO COME!
Here are some more samples of the art and gallery:
Thanks To All Who Supported This Lovely Afternoon!