In October 2015 We Set Up A Test Plot Of 16 Maasai Villages In The Rift Valley.
After consulting with Barnabas Mutua and Dr. Mereu of the Ewaso Clinic in September 2015, we decided to set up a 'Test Plot' in the area surrounding the small town of Ewaso. Dr. Mereu selected 16 villages to document.
Upon arriving at the clinic around noon on October 23rd, we caught our breath and sat down to enjoy a luncheon of goat meat roasted over an open fire along with ugali and spiced kale. Delicious! We then discussed our project in more detail and mapped out a plan for distribution of the Water Filtration Systems.
We decided to construct the Systems at the clinic and deliver them to the 16 villages that afternoon. We kept 4 in reserve for later distribution by Dr. Mereu. I put together one System explaining in detail it's use and maintenance and then Barnabas, Action Jackson and Dr. Mereu and I completed the remaining Systems. Judy was the 'official videographer' for the trip.
We were warmly greeted in every village we visited. Most of the children had not seen a white person before. The younger ones were a little cautious but the older ones were not. A few spoke a little broken English and we were able to talk a bit without an interpreter. The kids, as well as the adults, got a real kick out of my attempts to speak Swahili. As we distributed candy and treats to the children we also explained the use and maintenance of the Water System.
In every village we visited at least 5 to 6 children suffered from upper respiratory ailments, stomach cramps and diarrhea. They said they 'just didn't feel well.' We spent about 15 to 20 minutes in each village speaking with the people and documenting their conditions.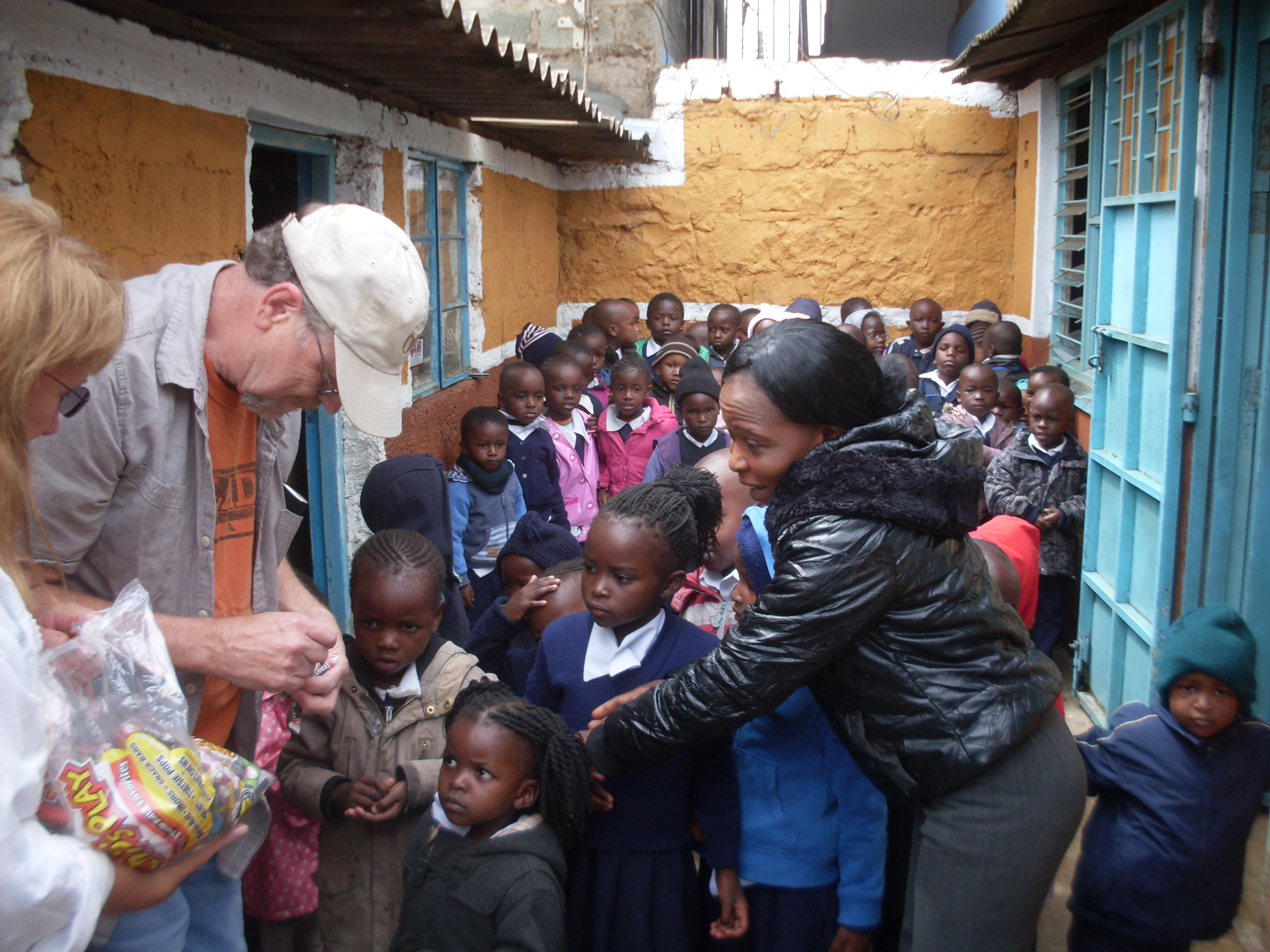 After setting up our 'test plot' we returned to the Ewaso Clinic and enjoyed a hasty meal of Chapati: a thin round pita-like bread stuffed with goat meat. Once again, delicious! As the sun began to set we hopped into the beat up matatu (mini-bus) we rented and drove out of Ewaso headed for Nairobi. It was a rough, dusty and dirty ride back. During that ride we all shared our unique experiences of meeting and working with the Maasai. By the time we arrived back at our hotel just outside of Kibera Slum, it was past 10:00pm and Judy and I were exhausted. We felt great, though, knowing what we had just started and holding on to that warm feeling you get when you KNOW something great had just taken place.
Within 10 days of our return home we received an email from our liason to the Maasai, Barnabas Mutua. He said that Dr. Mereu had just contacted him by telephone and that within the last few days almost 200 villagers had showed up at his clinic asking about the Water Filter Systems and if they could have one. Word spread that quickly! Dr. Mereu was astonished and assured them that more were to come in the future.
One of the highlights for Judy and me on this trip involved a watering hole just off the dirt road we were on. As we sped down this narrow dirt road after setting up our last System, we rounded a turn and saw this watering hole with 5 Maasai women filling their jerry cans full of this polluted water that had the color and consistency of chocolate milk. I yelled to the driver "PULL OVER!" We came to a screeching halt in a cloud of dust and jumped out with the one bucket and Filter System we had left over. The last village we entered no one was around.
We startled these young women but Dr. Mereu explained in the Maa language of the Maasai who we were and why we were here. They seemed mildly amused as we set up our System to demonstrate how to turn the filthy water they were drinking into what the Maasai now affectionately call their 'sweet water.'
I took a bucket full of water directly from the polluted watering hole, placed it on two of their jerry cans and asked them to watch carefully as I opened the tap. Nothing happened for about 30 seconds, the water was that thick. And then from that filter ran a small stream of clear, clean filtered water. A few of the ladies actually gasped and jumped back. I found out later they thought it was magic. Dr. Mereu and I laughed and then drank from the cup we had filled and it was delicious. We were all smiles and the women thought we had lost our minds. Dr. Mereu had been interpreting the entire time as we explained what this device was and what it did. They still looked a bit skeptical as we left. Dr. Mereu explained that these Filtration Systems would be coming soon to their area.
At that point Judy and I knew our mission was clear. From that moment on we began to plan our project. We knew that whatever it was to become, however large or small, it would become a reality and that much good would come from it.
Did you enjoy this article?
We will continue to share our experiences with our readers as we travel the Kenyan Rift Valley. If you enjoy learning more about the Maasai and their lives, please consider a donation that will help us deliver them clean water systems.